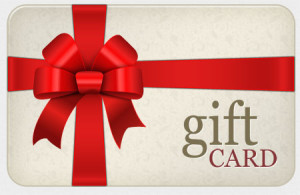 Your referrals mean the world to us. We work hard to earn each referral with great service and appreciation for your business every day. As our way of saying thank you, we're kicking off our new referral program. Here's how it works:
Each time we receive a referral from you, you get the opportunity to choose a gift card reward. What qualifies as a referral? A referral is when we are contacted for a quote from someone saying you referred them to us. Don't worry we ask on every call.
For every referral we receive we will give you a $10 Starbucks or Amazon gift card.
We hold a quarterly drawing from all the names of people that referred someone to us.

For our quarterly drawing, the monthly prize is a $100 Visa gift card.
Each referral equals one entry into our quarterly drawing
We'll announce who won in our newsletter.
If you are the quarterly winner, we'll ask you for a picture of you and will feature you in a ½ page article!
That's it. The person you refer doesn't have to purchase a policy or obtain a quote from us if we're not competitive for your referral to count.
Our referral program is open to anyone, whether they're a client or not.